The moving arm of Joto could trap fingers while in use. Keep hands away from the Joto unit while it is in motion.
Moving parts could cause personal injury.
Always operate Joto securely fastened and level on the wall or use with an official accessory stand.
Keep hands away from the Joto unit while it is in motion. Moving parts could cause personal injury.
The slots and openings at the sides of the unit are provided for necessary operation and ventilation. To ensure reliable operation of this apparatus and to protect it from overheating, these slots and openings must never be blocked or covered. Never insert anything metallic into the open parts of this apparatus or touch the inside of the device. This may cause damage or a danger of electric shock.
If the Joto is emitting strange noises, strange smells, or smoke, cease using the device immediately, unplug the device, and then store it away safely. Failure to do so will increase the risk of fire. Please contact us immediately at support@joto.rocks in such circumstances.
ADULT USE ONLY. KEEP OUT OF REACH OF CHILDREN. Do not let children play around the product without supervision.
INSTALLATION ON A WALL
Do not hang from the installed product or apply force to it.
Do not install the product on a wall that will not support its weight. The product may fall, resulting in physical injury or product damage.
Joto (Those Ltd.) is not responsible for any damage to the product, your property, or personal injury caused by installing the product on a wall.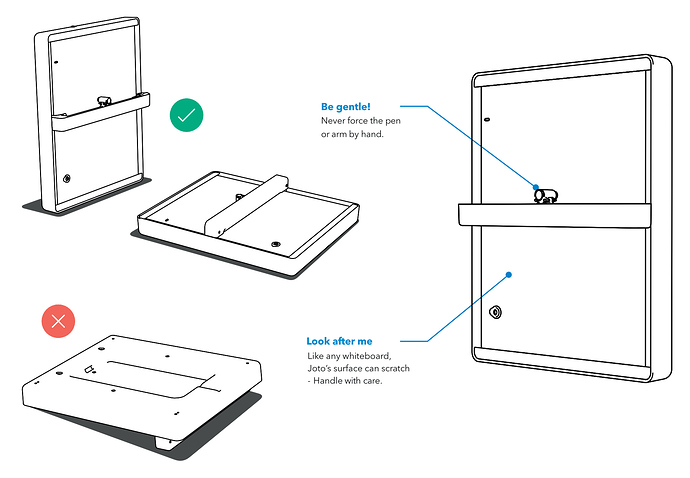 INK & REFILLS
Joto should only be used with approved inks, pen materials and accessories. Misuse of your Joto and/or use of non-approved inks, nibs or other pen materials may result in damage to your product or injury to you, and will void your warranty.
Injuries to the user may include, but are not limited to, harm sustained from inhaling substances that are not suitable for writing or drawing.
Always read warning labels on ink bottles.
WARNING: DO NOT use Joto near bathtubs, showers, basins or other vessels containing water. This could result in death due to electric shock.
WARNING: DO NOT force Joto's arm to move or try to move the pen yourself, you will break internal and external parts of the Joto device.
LIMITED WARRANTY
For more details on your limited warranty, please visit: joto.rocks/warranty
For Joto's Terms and Conditions and other notices please refer to our website: joto.rocks/terms-and-conditions
ADULT USE ONLY. THE JOTO IS NOT A TOY FOR CHILDREN.
JOTO is a trademark owned by Those Ltd.
FCC NOTICE
CAN ICES-3 (B)/NMB-3(B)
This device complies with Part 15 of the FCC Rules. Operation is subject to the following two conditions: (1) This device may not cause harmful interference, and (2) this device must accept any interference received, including interference that may cause undesired operation.
Note: This equipment has been tested and found to comply with the limits for a Class B digital device, pursuant to part 15 of the FCC Rules.
These limits are designed to provide reasonable protection against harmful interference in a residential installation. This equipment generates, uses and can radiate radio frequency energy and, if not installed and used in accordance with the instructions, may cause harmful interference to radio communications. However, there is no guarantee that interference will not occur in a particular installation. If this equipment does cause harmful interference to radio or television reception, which can be determined by turning the equipment off and on, the user is encouraged to try to correct the interference by one or more of the following measures:
Reorient or relocate the receiving antenna.
Increase the separation between the equipment and receiver.
Connect the equipment into an outlet on a circuit different from that to which the receiver is connected.
Consult the dealer or an experienced radio/TV technician.
Changes or modifications not expressly approved by the party responsible for compliance could void the user's authority to operate the equipment.